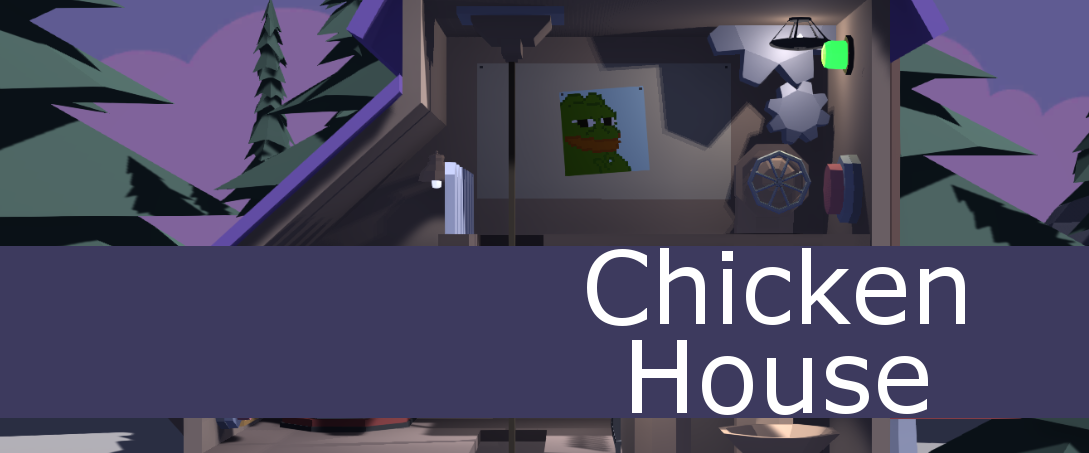 ChickenHouse
A downloadable game for Windows, macOS, and Linux
This game was created for the Game Development contest Ludum Dare 37.
It was created within a 72 hour period, with the theme "One Room" in mind.
It's about controlling a house on chicken legs just via the use of buttons, valves and pressure plates.
We will update the game on itch.io until the major bugs are fixed.
Post Ludum Dare Updates:
DEV-16-50-01:
- Edited rope collider
DEV-16-50-02:
- Edited movement motor
- Changed rope climb detection script
- Edited enemy spawn controller
- Edited frog enemy (didn't move properly)
- Fixed oil tank not processing oil
- Improved crane platform rotating
DEV-16-50-03:
- Fixed level not ending at the x+ axis
- Changed pressureplate position for better usage of the rope
- Fixed bug that enemies spawn above others.
- Fixed crane rotating bug
- Deleted unnecessary files
- Adjusted values of spawn script
- Fixed light near the crane input
Download
Click download now to get access to the following files:
Chicken House Windows (DEV-16-50-03)
14 MB
Chicken House Linux (DEV-16-50-03)
29 MB
Chicken House Mac (DEV-16-50-03)
16 MB
Chicken House Windows (DEV-16-50-02)
14 MB
Chicken House Linux (DEV-16-50-02)
29 MB
Chicken House Mac (DEV-16-50-02)
28 MB
Chicken House (DEV-16-50-01)
14 MB
Chicken House Linux (DEV-16-50-01)
29 MB
Chicken House Mac (DEV-16-50-01)
28 MB
Chicken House (Ludum Dare Version)
14 MB
Chicken House Linux (Ludum Dare Version)
29 MB
Chicken House Mac (Ludum Dare Version)
28 MB